What is identity verification?
Identity verification (KYC) is a verification procedure for exchange users, confirming their identity by requesting personal data. The abbreviation itself stands for "Know Your Customer".
Before undergoing identity verification, you can see how our trading tools work using Demo-tokens. However, identity verification is required for making any deposits and withdrawals, creating and activating WhiteBIT codes, and using the Buy Crypto functionality.
Identity verification helps to secure your account and keep your funds safe. The process takes only a few minutes and does not require any technical skills. The presence of identity verification is an indicator of the reliability of the exchange. The platform, which does not require any data from you, respectively, does not bear any responsibility to you. In addition, verification prevents money laundering and terrorist financing.
How to pass
identity verification?
Go to "Account settings" and open the "Verification" section.
You can find the detailed video instruction.
Important: the verification section is only available to registered users without identity verification.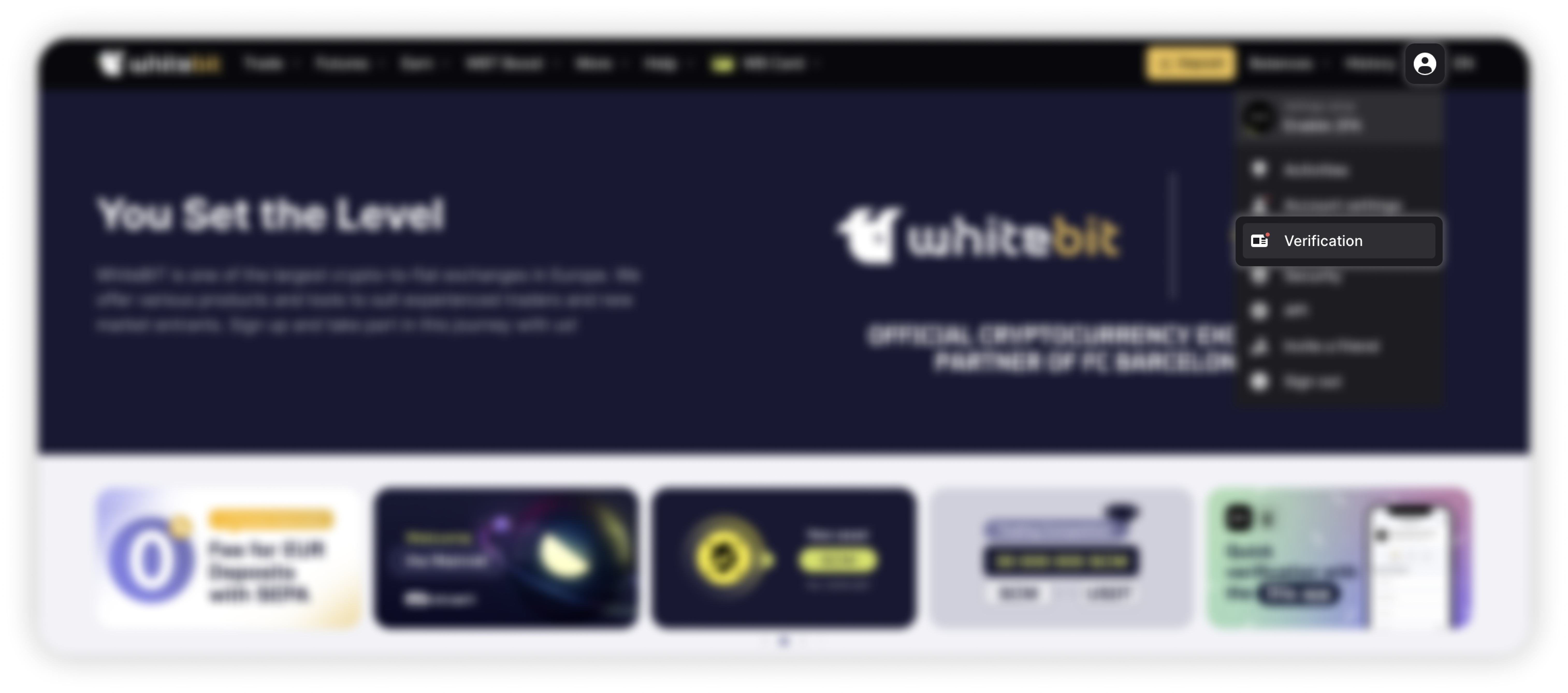 1. Select your country. Make sure you select the country from the white list.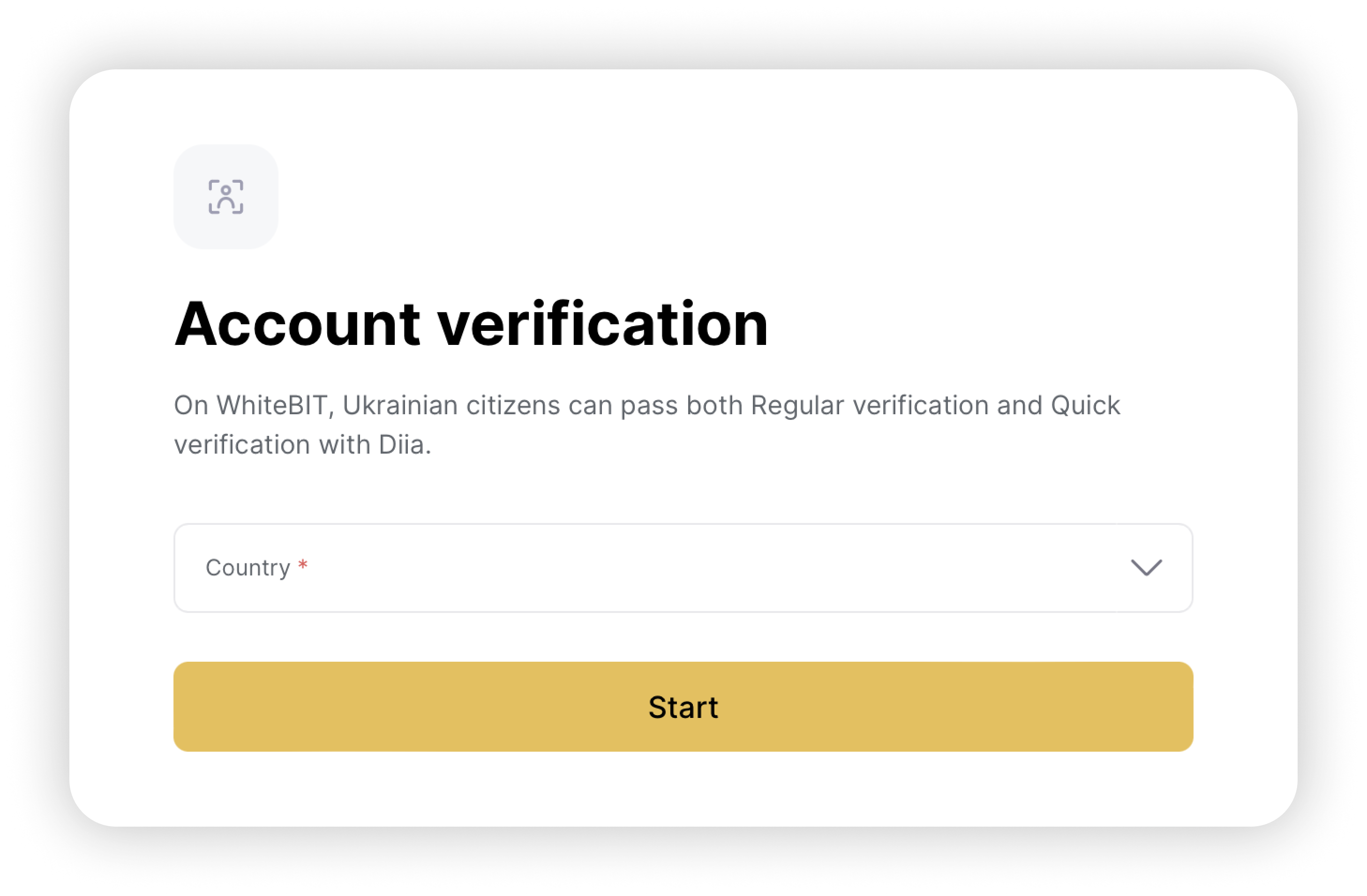 Please note that we currently do not accept proof of identity from citizens or residents of the following countries and territories: Afghanistan, Ambazonia, American Samoa, Canada, Guam, Iran, Kosovo, Libya, Myanmar, Nagorno-Karabakh, Nicaragua, North Korea, Northern Cyprus, Northern Mariana Islands, Palestine, Puerto Rico, Republic of Belarus, Russian Federation, Somalia, South Sudan, Sudan, Syria, Trinidad y Tobago, Transnistria, USA, US Virgin Islands, Venezuela, Western Sahara, Yemen, temporarily occupied territories of Georgia, temporarily occupied territories of Ukraine.


2. Then you should agree to our processing of your personal data.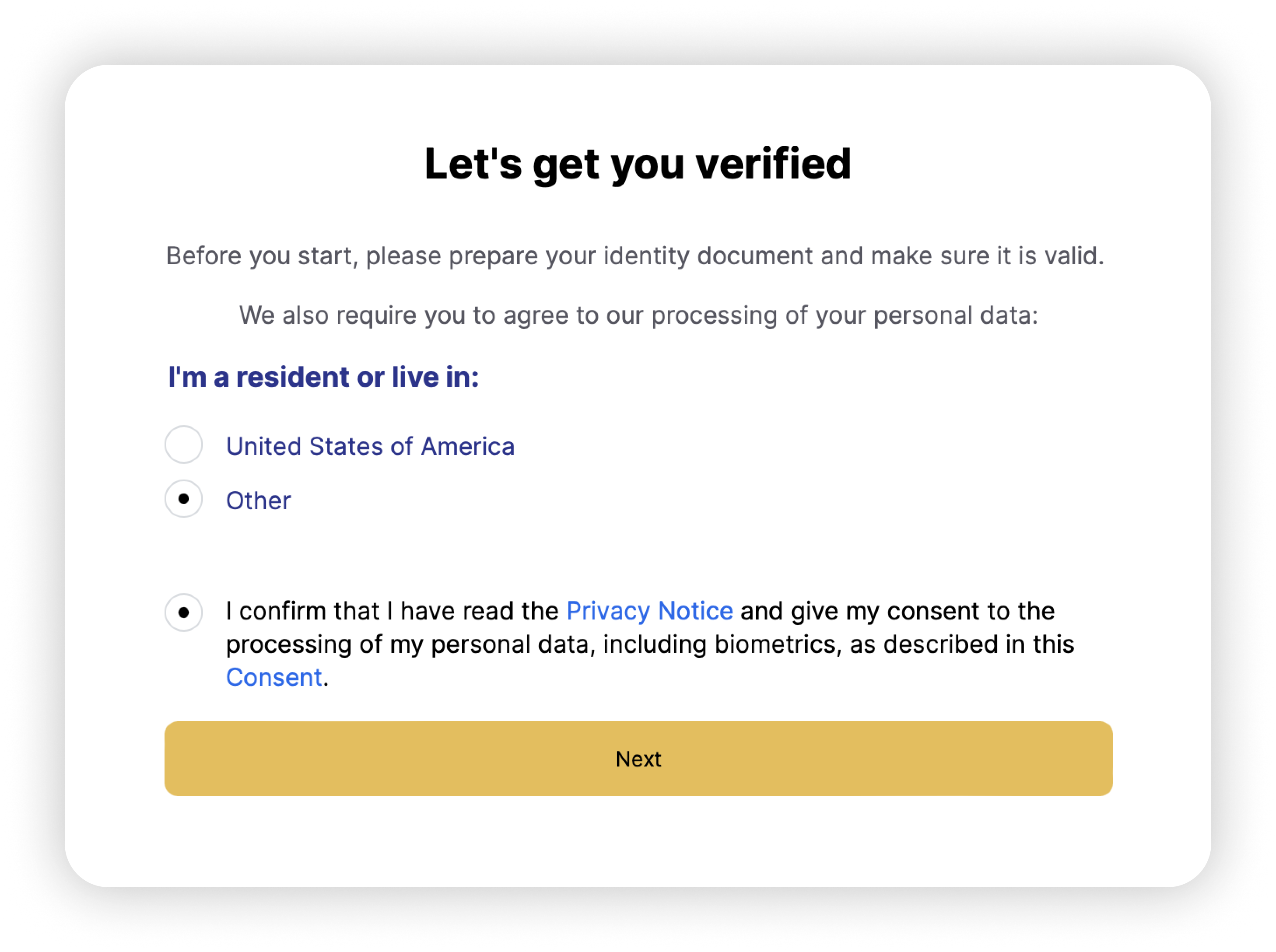 3. Fill in the form with your details: first name, last name, gender, date of birth and residential address.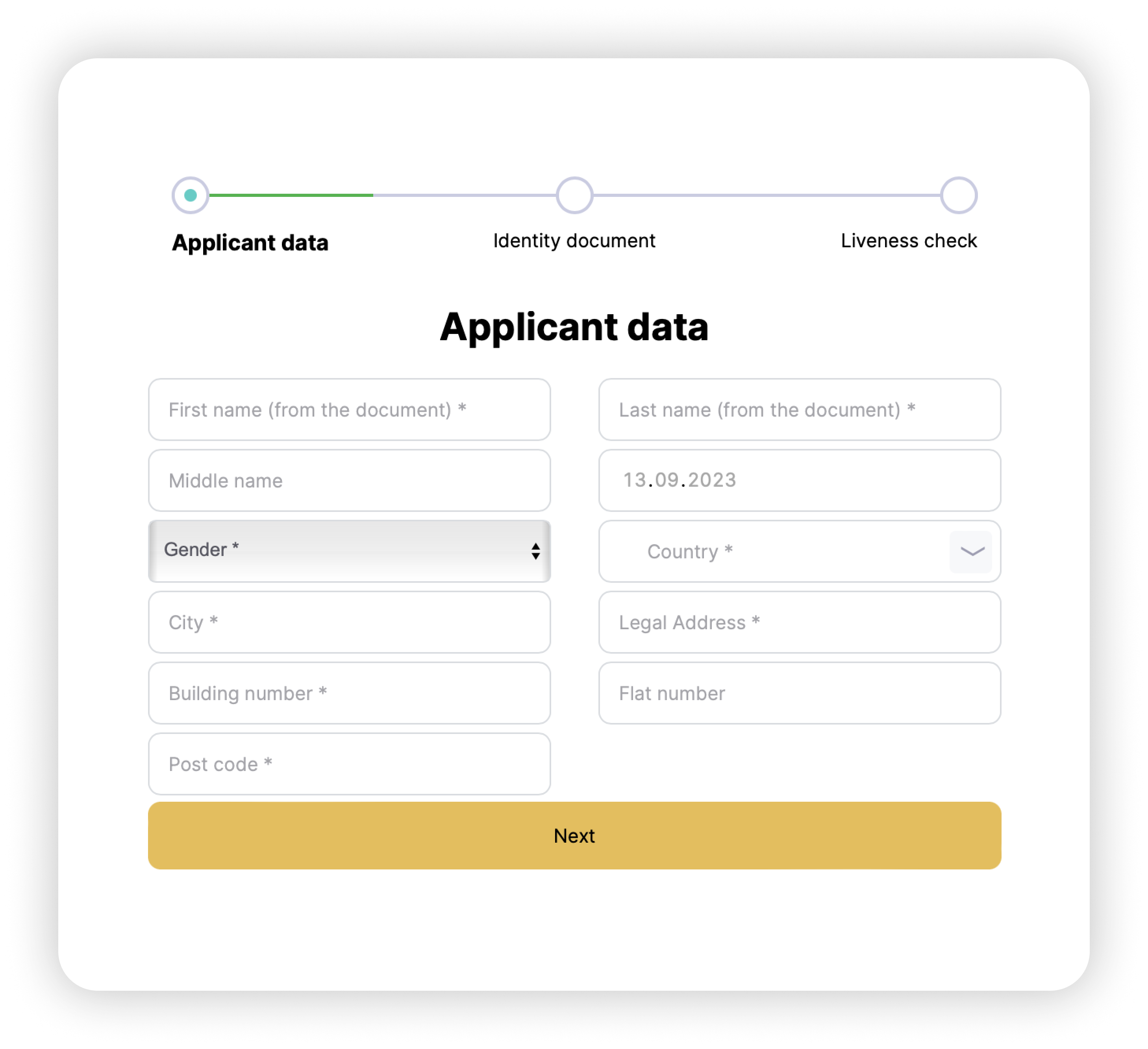 4. Select an identity document. There are 3 options available: ID card, passport, driving license, or residence permit. Choose the most convenient way and upload the document.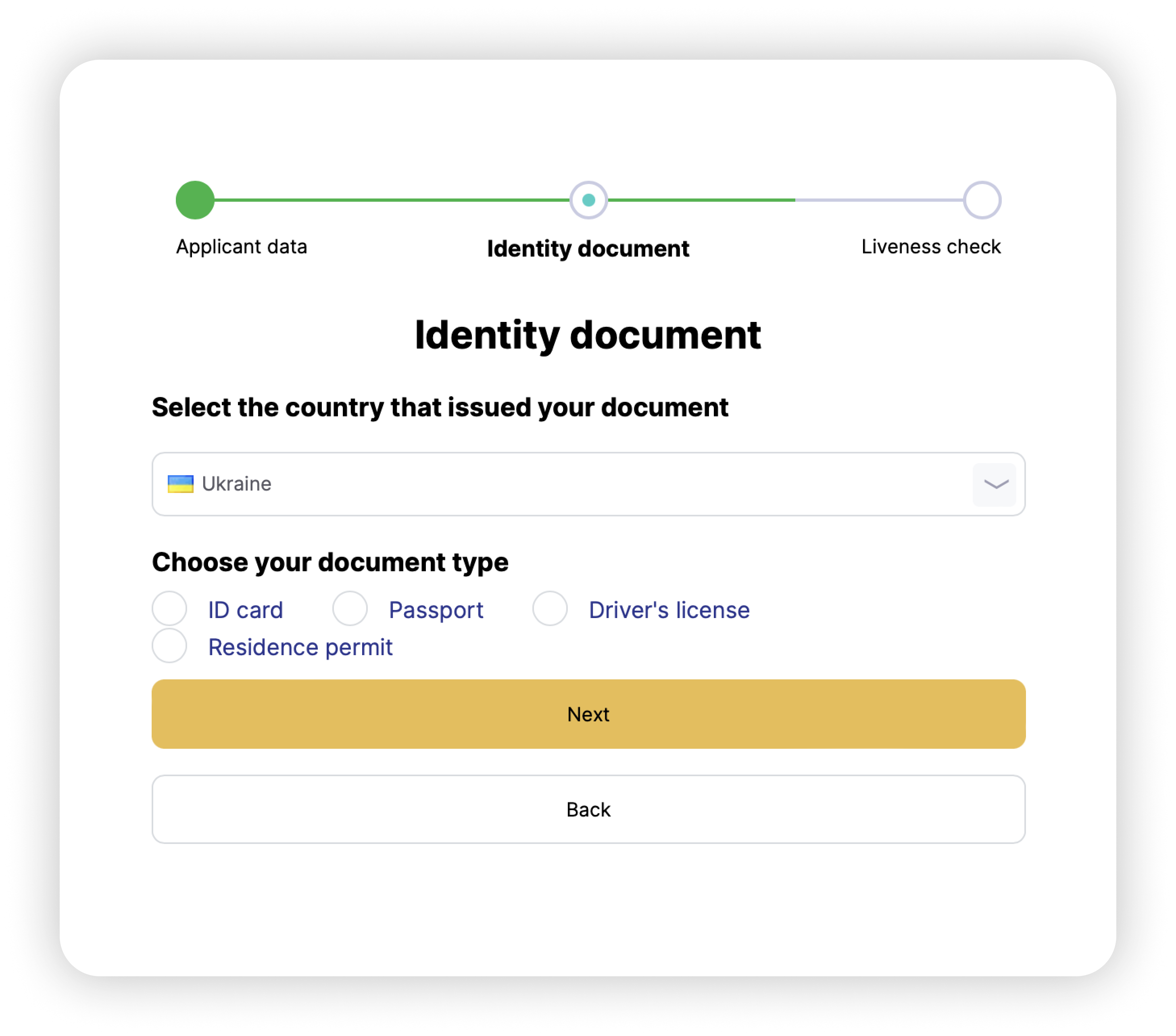 5. Video verification. This simplifies and accelerates the verification procedure. According to the interface instructions, you must turn your head from side to side. This can be done either through the app or the web version.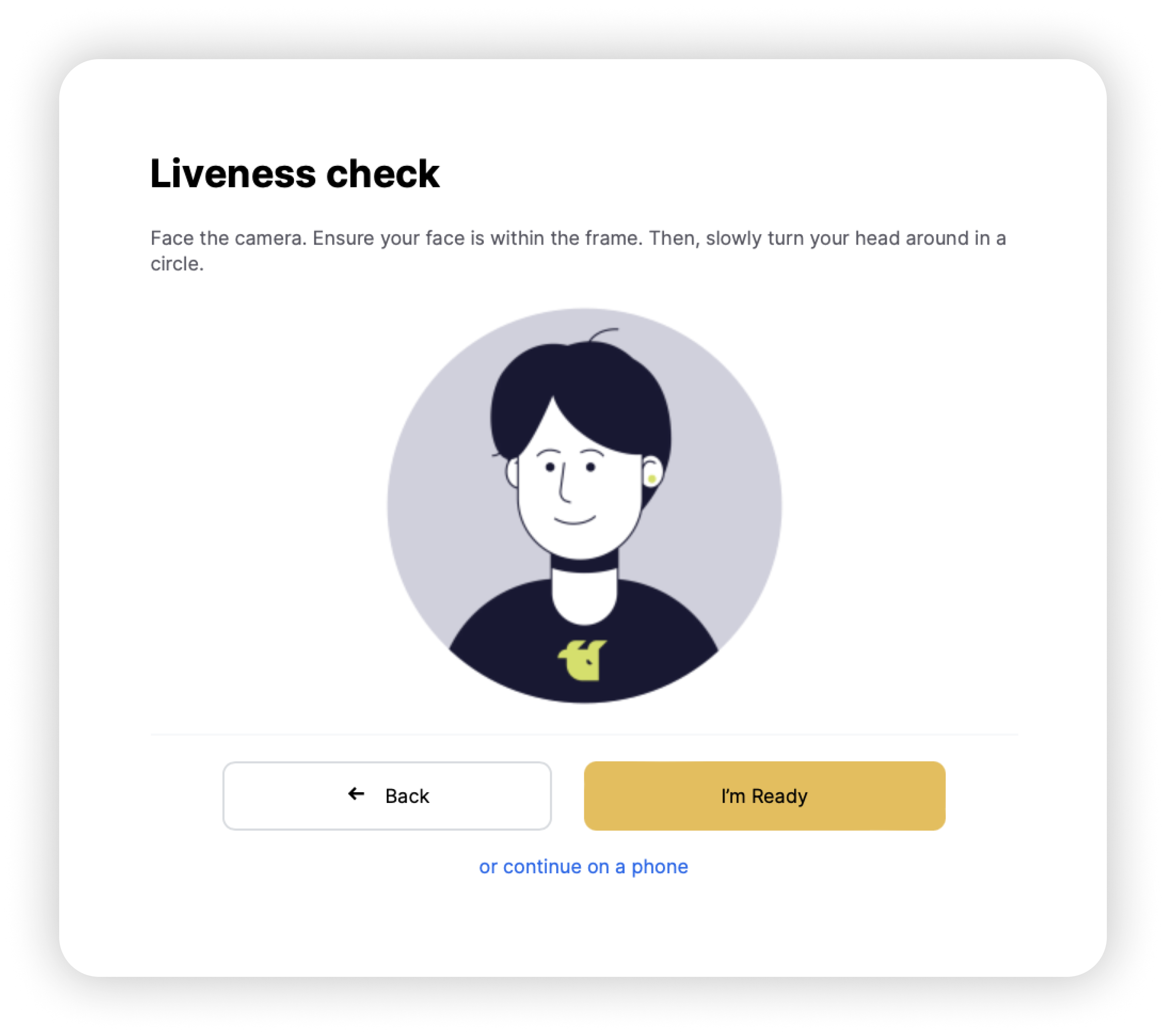 6. Complete the identity verification by enabling two-factor authentication (2FA) for additional account security.

Two-factor authentication (2FA) is a code generated by an application that ensures you are the only person with access to the account.
Done! Soon, you'll know the verification status. We will send you a letter as soon as we check your documents. You can also check the status of your account.
Your documents may not be approved. But don't take it personally. We allow you to try one more time if your data is disapproved.
You can pass identity verification on your device if you prefer using only your phone. It's as easy as on the web. You must sign up for our exchange through our app and apply for identity verification. Follow the exact instructions that we have described above.
Congrats on passing your first steps on our exchange. You set the level with every step you take!
How long will it take to verify my proof of identity (KYC)?
Usually, applications are processed within 1 hour, however, sometimes verification can take up to 24 hours.
Once your application has been processed, you will receive a notification to your email with information about the result. If your identity verification request is rejected, the email will indicate the reason. In addition, your status in the Verification section will be updated.
If you made an inaccuracy while going through the verification process, just wait for your request to be rejected. You will then be able to resubmit your information for review.
Please keep in mind our general requirements for the identity verification process:
Fill in the application form (please note that mandatory fields marked with an * must be completed);
Upload a photograph of one of the following documents: passport, ID card or driving licence;
Complete the facial scanning process as required.
Support
In case of any difficulties or any queries while going through KYC verification, please contact our support team. To do so, you can:
Leave an inquiry on our website;
Write to our support email: support@whitebit.com;
Contact us via live chat by clicking on the button in the bottom right corner of the screen.